Discover the difference between true love and counterfeit love.
Never be betrayed by counterfeit love again.
He texts you everyday to say how beautiful and sexy you are and he can't wait to be with you again. No-one has ever loved him the way you do, not even his ex-wife. He tells you there are some women that men just want to sleep with but then there is 'the woman' that each man wants to wake up next to every day for the rest of his life. You are the woman he wants to wake up next to forever. He even starts looking for houses to buy with you. You tell your friends, "He is the one. He really loves me."
Have you been betrayed by counterfeit love? Did you think your partner really loved you and then you discovered declarations of love and sexy messages he was sending to his ex? Are you confused why your partner tells you he wants to marry you but at the same time tells another woman he wants to worship her lily-white arse?
Counterfeit love sounds like love, looks like love and may even feel like love but it's not love. Like a chameleon changes its colour, counterfeit love can change to mimic love—it knows what you need to hear, see and feel. Counterfeit love is seductive and it will draw you in. Before you know it you have fallen head over heels in love and then from out of nowhere you are bitten by the sting of betrayal.
The book, Counterfeit Love, answers your questions about what is true love and what is counterfeit love? You will discover how to intelligently discriminate between the two. You will learn to discern whether or not the declarations, "I love you", "You are the one for me", "I want to marry you" are declarations of true love or simply the seductive words of counterfeit love. In love, actions speak louder than words—you will find out how to know whether your partner's actions are acts of true love or acts of deception. You need to discover why you keep attracting counterfeit love into your life and learn how to open yourself to true love.
Counterfeit Love will open your eyes so you are savvier in love and it will also open your heart so you can receive the true love you deserve.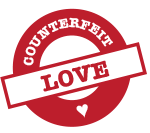 Be Interviewed For The Counterfeit Love Book
is currently being written by psychotherapist, Jacqueline Bignell. Extensive research for the book is currently being undertaken.
Would you like to be interviewed about your experiences of counterfeit love, betrayal or true love? If yes, the author of the Counterfeit Love book would like to hear from you. Please fill in the form and the author will contact you.